News & Announcements
Speak at Jamstack Conf. The CFP closes soon!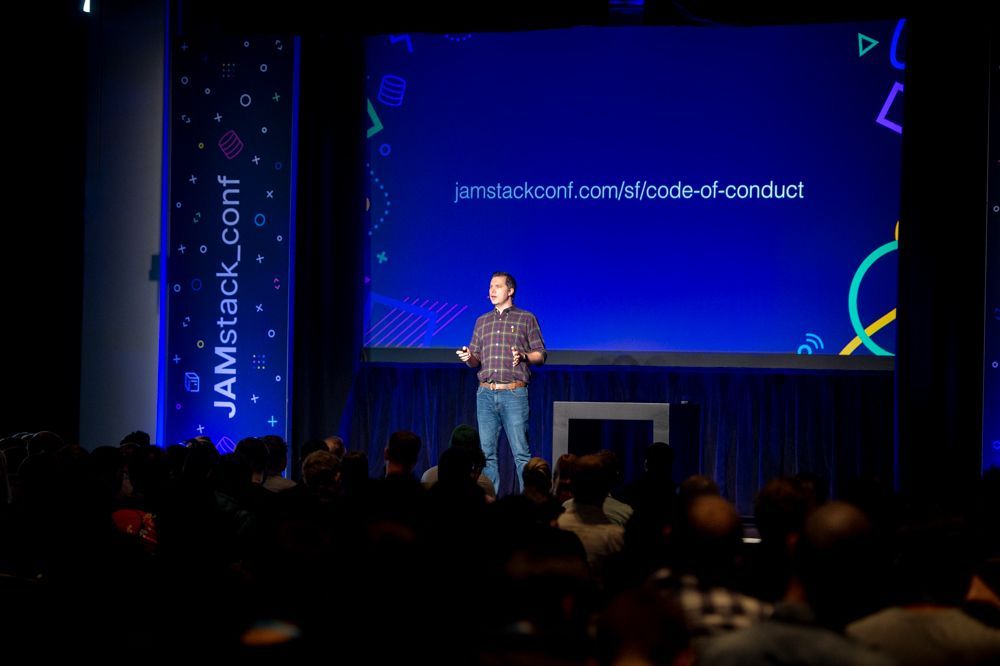 The call for proposals to speak at this year's Jamstack Conf in San Francisco will close at the end of the week on August 12th. So if you have an idea for a talk, now is the time to submit your proposal!
We've been thrilled with all of the wonderful proposals so far, and have already announced some of the first speakers who will be with us in San Francisco as we return to an in-person format for Jamstack Conf. If you're thinking that you've missed your window, or that you don't have enough experience to compete with other speakers, think again! We love to see talks from people new to speaking, or with new perspectives. Come and join the fun!
Together again
The return of an in-person Jamstack Conf this year brings the opportunity for more people to share their stories and experience, not only in the "hallway track", expo hall and lively social events, but also live from the stage in San Francisco.
We're excited by the unprecedented power developers of all backgrounds and skills can wield when it comes to modern web development, and can't wait to celebrate that with you.
Content themes
Jamstack Conference focuses on the expanding modern web development technologies and techniques which do not require a server as part of the solution. In particular we're interested in receiving submissions which discuss:
1. Web development best practices
What is the latest wisdom on techniques an architectures to deliver web projects? From component-based and development models, to language/framework evolution, the rising popularity of MPAs, and development best practices.
2. Jamstack case studies, examples, results
How has the Jamstack been used in real world projects, especially at large, recognisable organisations and brands? What were the learnings? What were the results? How was it implemented?
3. Modern browser capabilities and techniques
As an enabler of modern web development, what in-browser technologies are emerging and how do we leverage them? How does this impact user experience, accessibility, inclusivity, performance and effectiveness?
4. Integrations, services, APIs
What tools exist in the modern web development ecosystem and how are they being put to use? What innovative ways are these being used and what are the benefits. How can composable architectures unlock potential?
5. Responsible web development
How do we plan and deliver our web projects in ways that bring the largest possible benefit, while doing the least possible harm? What are the cultural, environmental, and inclusivity, and accessibility impacts of the choices we make?
Supporting speakers
We invite proposals from seasoned conference speakers and first-timers alike in either 20 minute talk or the ever-popular 10 minute lightning talk formats. Successful applicants will receive:
A speaker's honorarium ($500 for 20 minutes talks, $250 for lightning talks)
Travel expenses to San Francisco (and home again!)
Accommodation in our speaker's hotel close the conference venue
Support in crafting your presentation and delivering your talk
A fun evening at our speaker dinner
We also want to help people with their proposals. The team at Jamstack Conference have a lot of experience in reviewing and writing CFPs and we'd like to offer feedback and reviews of your planned proposals via the Jamstack community discord. Speak up in the ask-for-help channel to find some helpful folks.
Key dates
Last date for submission is August 12th 2022 at 5pm (Pacific Time)
All decisions will be confirmed and communicated by August 26th 2022
Talks will be presented live from our stage in San Francisco on November 7th and 8th 2022
More at Jamstack Conf
In addition to the talks and lightning talks, the ever popular Lightning Launches will feature once again this year. With selected companies being invited to announce or launch a new feature or product exclusively from our stage to the audience in San Francisco and watching around the globe on the live stream.
We'll also soon be launching this year's Jammies awards and inviting your nominations for potential winners in a number of categories. Follow @jamstackconf and @netlify to make sure you don't miss that announcement when it comes along very soon.
Workshops, the expo, and various social events all add to the fun and reasons to join us in San Francisco.
See you there!
The return to in-person events is truly exciting for us. Especially as Jamstack Conf enjoys such an incredibly supportive and collaborative community. We can't wait to spend time with you and to learn from each other.
We're working to try to make the event as safe, approachable, and accessible as we can. More details on that will be announced here and on the conference web site over the coming weeks.
Joining from afar
For those unable to make the journey to San Francisco, we'll be providing a livestream of all content on the stage, and plan to add some extra fun on the livestream just for those who'll be watching from afar. We'd prefer to see you in person, but we want you to have fun and get lots from the event even if you are participating from the comfort of your own home.
Take action