Opinions & Insights
Unlocking the Power of Composability for Digital Agencies: a Conversation with Like Digital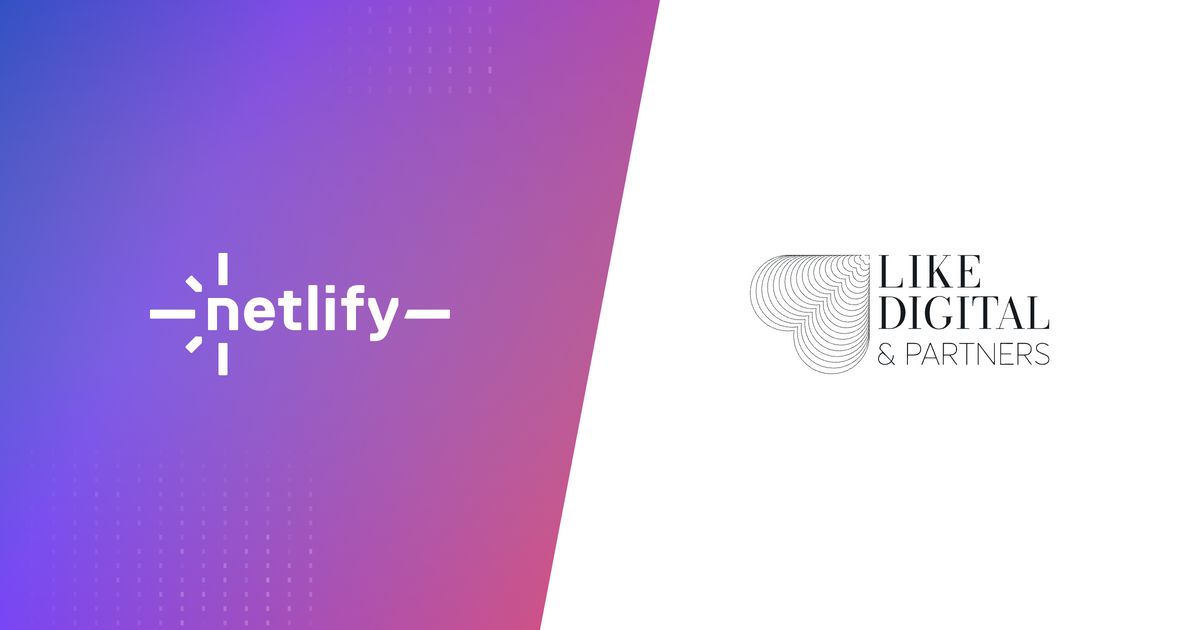 Digital agencies face the constant challenge of delivering superior digital experiences efficiently and within a client's budget. For decades, monolithic solutions were the norm but these technologies now present more challenges than they do advantages: limiting agencies in terms of cost, flexibility, risk, and more. Composable architecture allows digital agencies to build the software solutions that delight end users, drive results for clients, and keep projects running smoothly.
This is just one of the key insights covered in a conversation between Sam Bhagwat, Gatsby co-founder and principal engineer at Netlify, and Richard Mogendorff, co-founder and chief digital officer at Like Digital, a multi-channel experience and design agency.
In its 2020 report, "Adopt a Composable DXP Strategy to Future-Proof Your Tech Stack," Gartner Research outlined how businesses can no longer meet their objectives with monolithic platforms and boldly predicted that organizations using a composable approach will outpace competition in feature implementation by 80% in 2023.
The following highlights from Richard and Sam's conversation show how Gartner's prediction is coming true for agencies building and delivering superior digital experiences.
Getting started with composable architecture
Sam Bhagwat (SB): How did you first learn about composable architecture and implement it at Like Digital?
Richard Mogendorff (RM): Like Digital formed in London in 2011 around the boom of mobile sites. We learned early to change with the times, to recognize changes in technology and experiential trends and assimilate those into our workflows. Things started very much in the monolithic world for several years, but we made a firm strategic decision across the entire business to move to composable about four years ago. It was a decision to drive value to our clients. As an agency, we used to have rooms of developers keeping the lights on with monolithic. We focus on mutual success and growth with our clients. When a client's retainer is going to bug fixes and patches, it doesn't move things forward as much as we like.
Delivering digital experiences with composable
SB: Can you share a successful project you've built using composable?
RM: We had a remit to replatform Italian luxury lingerie brand La Perla in early 2020, with a very short timescale to release 13 global sites, including Japan, the UAE, and the United States. This was shortly followed by a digital rollout of their new fragrance and cosmetic products. For regulatory purposes and to best serve internationalization, we had to source a CMS and commerce solution that was scalable and flexible enough to support complex product enrichment across territories and languages.
We had to do an initial product association with BigCommerce and Content Stack. We enriched the product on that basis and as the products evolved, we were able to add in fields on the CMS. As we got to the ingredients, we created a separate data model on the CMS, then we did an association with an API. Using an API-first tool made a major project like this much more straightforward. Years prior, doing something like this would require an HTML table and copying and pasting, making it easy for errors to happen.
Composable trends across other industries
SB: Can you walk through other industries you work with and trends you see?
RM: I'll start with hospitality. What's interesting there is that it's very well-served by on-premise, built-for-purpose tools. You had a massive tool that did so many things, so getting something in the feature request list took forever. Now, we're seeing some amazing SaaS tools that speak to each other well. It makes things like associating a customer ID or member ID easier, and we can understand how guests are interacting with the business. The customers are getting better experiences and client service teams are winning, too. In e-commerce, new tools for subscription management and other specific use cases have made things much easier. And as these tools mature, open APIs make them that much easier to integrate.
Looking ahead
SB: What excites you most about the future of composable?
RM: I like that there's no manual for this, there's no university course. We learn from our customers and the real problems that they've had. We have to figure out the best way to make things work for everyone involved. The cross-team aspect and figuring out the best ways to use new tools creates an exciting community aspect.
For digital agencies such as Like Digital, delivering flexible, powerful solutions is key. As shown in this conversation, composable architecture delivers on both fronts, offering e-commerce companies the ability to manage diverse products and customer experiences at scale. Looking to the future, composability will continue to provide a competitive advantage for brands seeking to effectively manage and grow global footprints.