Opinions & Insights
We stand with Ukraine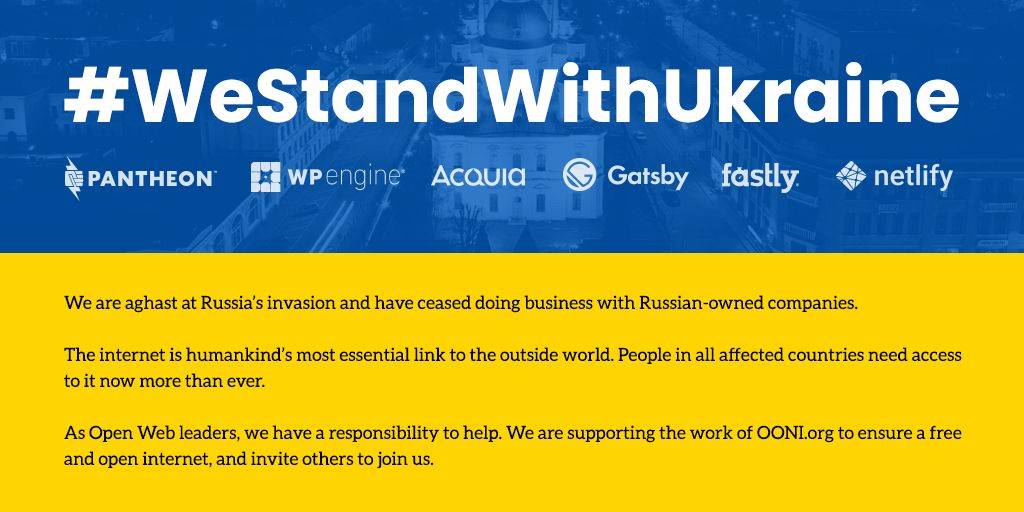 At Netlify, we stand with Ukraine.
On February 24, 2022, Russia and its forces senselessly attacked an independent country - Ukraine. We are aghast at Russia's invasion and have ceased doing business with Russia-owned companies.
We have come together with other open web leaders including Pantheon, WP Engine, Acquia, Gatsby, and Fastly to demonstrate unified support of Ukraine through a joint public statement. While we may all have our differences in opinions on technology, tools or architectural approaches for the web, we all share a bigger ideal of the open web as a shared space with no owner, allowing great freedom for a global community by being governed by rules and standards we all agree to play by.
As web leaders, we have a responsibility to stand up against Russia's current attack on the rules-based world order. This ongoing crisis has captured international attention and has deeply been felt around the world and with us. We wanted to take a moment to share the steps Netlify is taking to support our team and community, as well as what we can do as citizens of the world supporting those impacted in the region.
Supporting our team and social impact organizations
While Netlify does not have direct employees in Ukraine, we have team members around the world who are personally and deeply impacted. The senseless violence from Russia and the suffering inflicted on people in Ukraine is very real. We are supporting our team members impacted in any way we can.
Earlier this month, we held a donation matching drive with our team and community to help humanitarian groups support the people being impacted in Ukraine. We exceeded our goal of donating over $20,000 together with the Netlify team and the wider community. While the matching drive has concluded, our team and community can continue to donate.
Access to the web
We will no longer do business with Russian-owned companies.
Though we are not sanctioned to do so, we feel we must take a stand against the Russian government's violence on Ukrainian people and censorship of Russian people. In doing so, we feel a responsibility to help protect access to the internet for the people in Russia whose connection to the outside world is becoming increasingly restricted by their own leadership. We believe that all people, no matter where they are in the world, should have access to the internet. The web is humankind's essential link to the outside world and people in all affected countries need access to it now more than ever. It is the most important tool for human progress, and its integrity is critically important – especially in times of crisis.
The beauty of the web is that anyone can build for it. Our vision at Netlify is to build a better web. This means the web needs to remain accessible and available. It should be open, independent, and viable. It should remain as a home for open, global communication. That said, users can expect web sites and apps on Netlify to continue to be available to visitors in Russia.
We are also supporting the work of OONI.org, a global non-profit free software project called the Open Observatory of Network Interference, to ensure a free and open internet. OONI's mission is to ensure a free and open internet by increasing transparency of internet censorship around the world. Along with Pantheon, WP Engine, Acquia, Gatsby, and Fastly, we invite donations to OONI.org.
In summary
We know this is an incredibly difficult and trying time for the global community. Our hearts go out to all of the people being impacted. We will continue to evaluate how we can continue to support our team, community, and take additional action in support of Ukraine. Along with the international community, we hope for a return to a peaceful and sovereign Ukraine.
A note for our customers: if you are using Netlify to alleviate the humanitarian response, including non-profits, please get in touch with us if you need assistance through free services or wish to tell us your story.