Netlify Named Among 10 Most Promising Mid-Sized Private Companies in Enterprise Technology
Wing Venture Capital's second annual Enterprise Tech 30 report cited the JAMstack web architecture pioneered by Netlify as a rising trend for enterprise tech
SAN FRANCISCO – February 26, 2020 – Netlify, the fastest way to build the fastest sites, today announced it was selected as one of 10 most promising mid-sized private companies in Wing Venture Capital's second annual Enterprise Tech 30 report. Netlify was launched in 2015 and has been funded by Andreessen Horowitz and Kleiner Perkins, as well as the founders of Figma, GitHub, Heroku, Slack and Yelp.
Onboarding more than 800,000 developers, Netlify is one of the fastest growing web development platforms. What makes Netlify different from CDN or cloud providers is that it provides a single workflow to manage the CI/CD build pipeline, continuous deployment and hosting infrastructure all in one platform. Developers can get sites online in minutes and preview any changes before they are deployed.
Companies using Netlify span industries and use cases, and include Citrix, Cornerstone OnDemand, Facebook, Flexport, Google, LiveChat, Loblaw, TriNet, Unilever and Verizon.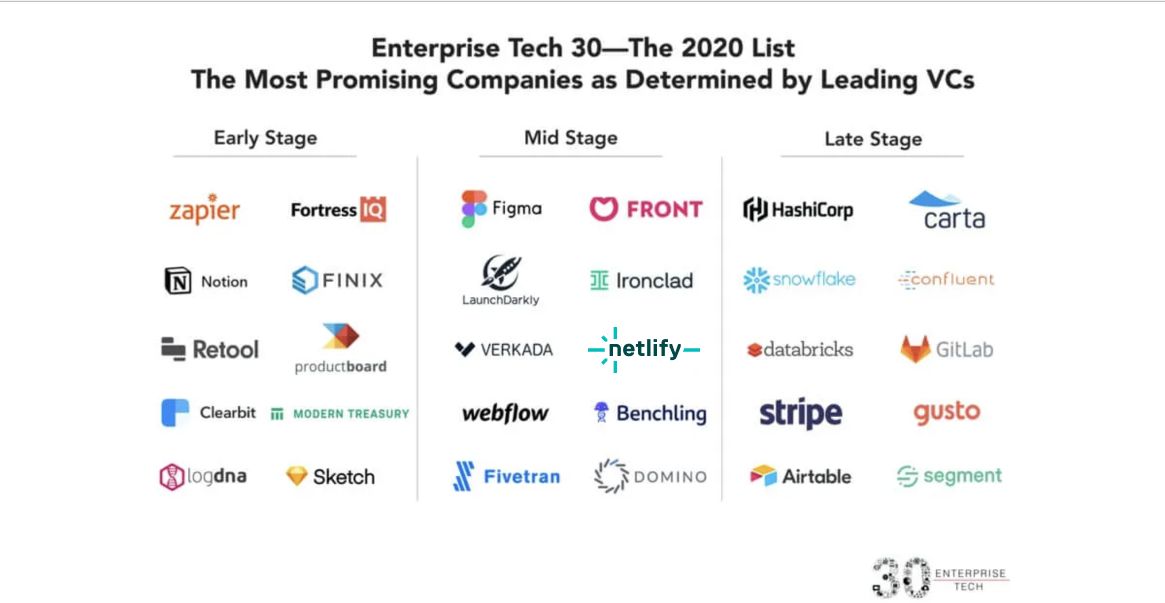 The JAMstack modern web architecture, pioneered by Netlify, was cited as a key enterprise tech trend and takeaway in Wing Capital's report. Unlike traditional web infrastructure that relies on monolithic applications and webservers, the JAMstack decouples the frontend pages and UI from the backend apps and databases. The result for Netlify customers is faster, more secure and cost effective sites at scale.
The Enterprise Tech 30 is an exclusive list engineered to provide the "Inside Tech" data signals. The selection process combines fundamental research with curated voting to capture the discernment of the leading venture capitalists in the sector, while mitigating the impact of self-promotion bias.
Supporting quotes
Chris Bach, co-founder and President, Netlify
"Netlify is paving the way for the new architecture of the web. Being a recognized company in the Enterprise Tech 30 this year is a testament to this approach for the modern web with the JAMstack architecture, and Netlify is at the center of enabling this for developers and businesses."
Additional Resources
Connect with Netlify
About Netlify
Netlify is the fastest way to build the fastest sites. Used by more than 800,000 web developers and businesses, the Netlify platform provides modern build workflows, serverless functions and a global Application Delivery Network to deliver the most performant, secure and scalable websites and applications. Netlify pioneered the JAMstack category, a modern web architecture that marries the best practices of static sites with the API economy and serverless functions, to deliver the faster load times and dynamic content, without worrying about web servers. Founded in 2014, Netlify is a venture-backed software company headquartered in San Francisco with a global team. For more information, visit www.netlify.com and follow @Netlify on Twitter.
Media contact