Developer Productivity for the Enterprise With Netlify
Increasing developer productivity means delivering on business goals faster while making life easier for your team. In this webinar, we'll walk through some of the major developer workflow improvements you can deliver to your business with Netlify.
You'll learn:
How Netlify developer workflows differ from more traditional architectures
Which features are most valuable for unlocking developer productivity
Examples of how to implement Netlify to increase output and get to market more quickly
What other Netlify customers are doing to deploy up to 20x faster
And more!
Presented by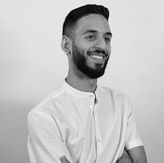 Ramin Sedighi
Senior Solutions Engineer