News & Announcements
How Forrester Calculated the ROI of Netlify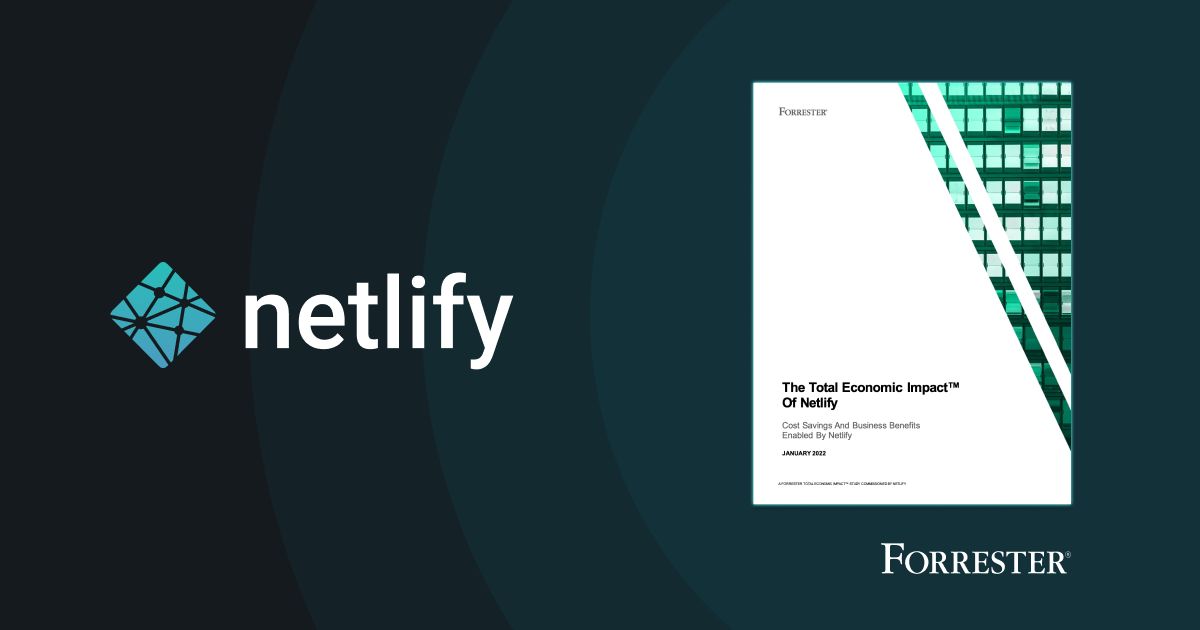 All kinds of web development teams use Netlify, from multinational enterprise organizations to startups with a team of two. But across industries and use cases, we hear one common thread when talking to our users: Netlify's platform makes web development easier. For some teams, that means productivity—they can deploy more frequently, or experience easy cross-team collaboration with deploy previews. For others, it means improved performance with Lighthouse scores, and more. But what are these benefits actually worth?
To find out, Netlify commissioned Forrester Consulting to conduct a Total Economic Impact™ study. The result is an independent analysis of how one enterprise corporation is saving $1.48 million in web development spending over three years, for an ROI of 151%.
The official Forrester Consulting Total Economic Impact™ of Netlify study is freely available for download, or read on for the highlights. To learn more about how Forrester calculated Netlify's TEI, join us for a webinar featuring Forrester on February 10 at 9 AM PT.
What's the ROI of Netlify?
To find the total economic impact of the organization's shift to Netlify, Forrester interviewed decision-makers at an enterprise company using Netlify to build and deploy its sites and applications, and used this experience to project a three-year financial analysis.
The company's goals in migrating to the modern web with Netlify were to improve search engine rankings and page views and to accelerate their time-to-market for web content. Their previous legacy solution faced them with low development agility because of a bureaucratic flow process for deployment that took weeks. With the decision to move off of their previous stack and implement Netlify, the interviewees chose to migrate to the Jamstack architecture, changing the way they build sites and applications from the ground up.
After migrating from their monolith to Netlify, they realized the following benefits, and more:
89% increase in release velocity
Ability to hire from a bigger pool of developers
10% increase in site traffic
So what's the ROI of those improvements? Over a three-year period, Forrester calculated that the interviewed organization realizes the following cost savings and additional profit, after adjusting downward for risks:
Netlify's platform reduces contract labor costs by almost $1 million
Prior to using Netlify, the interviewee's organization used a legacy monolithic web content management system that required specialized knowledge and IT support to manage and required weeks of effort to update and publish web content. The Forrester study found that, because Netlify is optimized for all developers, customers are able to draw from a bigger talent pool — lowering contract labor costs by 53%. One interviewee stated:
"All developers need to know to use Jamstack and deploy to Netlify is [HTML, CSS, and JavaScript] — so [hiring developers] is like going from having to hire board-certified surgeons to being able to hire anybody who's fresh out of medical school."
Site traffic enabled by Netlify results in over $800k in net new profit
Not only did the shift to Netlify boost the organization's Google Lighthouse scores, the platform made adding new content to the site more viable, since the marketing team didn't have to rely on engineering to get new content on the site. This allowed the organization to publish 50x more blog content than before, which increased traffic to the site.
Another driver for site visits is improved performance, as measured by the company's Lighthouse scores. After the migration off the monolith, the sites were 3x as fast on mobile and 2x as fast on desktop, and quickly began ranking for organic keywords. Forrester attributes an $823,600 incremental profit to new site visits.
The organization saw benefits due to increased launch velocity and team efficiencies:
In total, taking Netlify licensing into consideration and the cost of maintaining the new system, the company realized a 151% return on investment.
In addition, Forrester found a number of unquantifiable benefits, like ease of compliance and the access to Netlify's support and expertise. According to the vice president of digital experiences:
"Every time we have gone to Netlify and said 'Do you guys also support this? Or do your other customers use it for that? Or do you have a library or a plugin that does this?' The answer has always been 'YES!' Netlify took away potential drag on doing something new or blunted objections that might have been raised previously."
About Forrester's TEI Methodology
Forrester Research has been conducting TEI studies for over 20 years to help leaders make informed decisions about vendors. Details about their modeling and methodology is available in the full study. Of course, no two companies are the same, so Forrester's study also provides a framework to help you evaluate the potential financial impact of Netlify on your own organizations.
Want to learn more about how Forrester calculated the ROI of Netlify? Here's how: